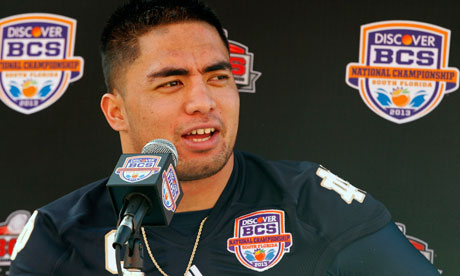 Manti Te'o, the US college footballer revealed to have been conducting a relationship with a fake online girlfiend, has denied that he was involved in the hoax.
In his first interview since the revelations, the Notre Dame linebacker told the sports network ESPN that there was "no way" he could have been involved in prepetrating the scam.
There had been speculation that Te'o was involved in the hoax: the "girlfriend" was revealed to have died hours shortly after the death of his grandmother. Despite the apparent double tragedy, Te'o went on to play the game of his life when Notre Dame beat Michigan State 20-3.
It has been suggested that he was involved in creating the story in order to perpetrate a media-friendly myth to assist his Heisman Trophy candidacy.
But in a two-and-a-half hour interview with ESPN, conducted off camera, Te'o said he was the victim of the hoax: "When they hear the facts they'll know. They'll know there is no way I could be a part of this."
The comments were Te'o's first public remarks since Deadspin.com reported that his girlfriend not only did not die but, in fact, never existed. Notre Dame and Te'o insist he was the victim of a cruel joke.
According to a report of the interview on ESPN's website, it appears that Te'o concocted an elaborate story to hide the fact that he had not physically met the woman, known as Lennay Kekua. He lied to his father about the affair, who then told reporters that the pair had met. Te'o now says he never met the woman.
On the occasions they talked on video chat online, the woman never activated her camera. Te'o admitted to meeting Ronaiah Tuiasosopo, a man believed to be behind the hoax, but said he did not know of the scam.
"I even knew that it was crazy that I was with somebody that I didn't meet," he told ESPN. "And that alone people find out that this girl who died I was so invested in, and I didn't meet her as well."
Before Friday night, Te'o's only statement was to declare his embarassment at the Deadspin revelations. "This is incredibly embarrassing to talk about, but over an extended period of time, I developed an emotional relationship with a woman I met online. We maintained what I thought to be an authentic relationship by communicating frequently online and on the phone, and I grew to care deeply about her.
"To realize that I was the victim of what was apparently someone's sick joke and constant lies was, and is, painful and humiliating