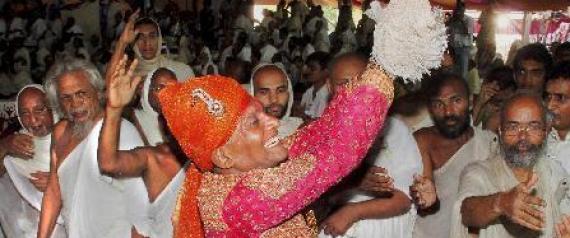 This Story reminds me of Matthew 19:21 in the Bible where a rich young man came to Jesus and said to him "All these things I have kept; what am I still lacking? and Jesus responded
"If you wish to be complete, go and sell your possessions and give to the poor, and you will have treasure in heaven; and come, follow Me.
Well the young man did not do that and most people will not but this multi millionaire did just that
You see, Doshi borrowed the princely sum of Rs 30,000 from his father in the late 70s to start his own plastic trading business in Delhi.
The son of a small textile merchant from Rajasthan, who embraced crippling hardships when he rejected his father's offer to join his family's modest business, was clear about one thing — he would reach the top of his trade.
He did.
Doshi built a business empire worth Rs 600 crore ($100 million) trading in plastic raw material.
But guess what, on Sunday he gave it all up (for a religious title) to become a Jain monk at a highly publicized and heavily attended event at the Ahmedabad Education Society.
His 'diksha' or consecration ceremony was attended by both Jain spiritual leaders and the city's top industrialists.
The father of three now looks at a life of austerity — he cannot cut his hair and has to walk without footwear — the Ahmedabad Mirror quoted Jain monk, Diksha Daneshwari Gunratna Surishwarji Maharaj, who accepted Doshi as his 108th disciple, as saying.
"Taking diskha is not easy. A Jain muni's life is like that of conch shell that cannot be painted by any other colour," Surishwarji Maharaj said.
His son Rohit, who has an MBA degree from the UK, said his father believed that the education of his sons and daughter "is of no use and the only real path is the path of moksha (salvation)".
Doshi was drawn to Jainism and spent a considerable portion of his money funding charities.
"He would have taken diksha three years ago but the family stopped him then.
It is always tough when the head of the family wants to seek diksha. It took three years for him to convince us. We are proud of him. The honour and respect that he got when he announced his decision is something that can only be seen to be believed," he told the Mirror.